Why choose Heffron as your fund administration provider?
Your own dedicated Client Relationship Manager
You will have one point of contact who is supported by a team of accountants and technical experts, all working together to maximise the benefits for your clients' SMSFs.
When you choose Heffron you're choosing the best
No other SMSF administration provider has the same technical strength as we do at Heffron. Our team educate the experts, consult with the ATO and provide advice in relation to legislative changes.
24/7 access to our online administration portal
Use our online admin portal to communicate with your team, track client fund progress, view pension minimums, previous financials and permanent documents.
Your clients' funds are being handled by an award winning team.
SMSF Administrator of the Year 5 years running

Packages to suit all investment portfolios

Our full-service administration packages are designed to be flexible, to meet the evolving needs of you and your clients. The online portal provides a wealth of information in relation to your clients' SMSFs, empowering self-service through a user-friendly platform. All prices include GST.
Streamlined
$2,430
Very specific investments fall into this category (bank accounts and trading platforms from a short list of banks and institutions).
Standard
$2,970
Covers investments in a 'typical' SMSF such as cash, term deposits, property, share and wrap platforms with any institution.
80% of funds fit into this category.
Advanced
$3,510
Extends coverage to more niche holdings like collectables, crypto, foreign assets, extensive property portfolios, private trusts and companies.
All packages include:
+ Annual Compliance and Strategic Review to help optimise a fund's future benefit and ensure your clients are making the most of their SMSF
+ Timely Preparation of Financial Statements and Tax Return
+ Independent Annual Audit
+ Online Access to Fund Documents and Information
+ Proactive and dedicated Relationship Manager
"We have been using Heffron to assist with the administration of our SMSFs for over a year now and we have been impressed with their quick turnaround times and utmost professionalism. Heffron is a complete administration solution that assists us with new fund setups, annual administration and technical support.
We highly recommend Heffron for all SMSF administration, technical and training requirements."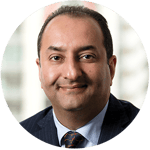 Aziz Meherali
Principal at Elixir Private Wealth